If you've ever spent any amount of time looking at tiles for your home, you'll know that there's quite a selection to choose from. 
Long gone are the days when you just had one or two types of tiles to choose from and everyone pretty much had the same thing.
Below we've included some of the main types of tiles and what they're best used for to help you find the best tiles for your current project.
Types of Tiles
Porcelain tiles
One of the most popular choices for homes is porcelain tiles. They're extremely durable and are suitable for floors and walls in living areas, dining rooms, high traffic areas, outdoors, bathrooms and kitchens. 
Available in a huge variety of styles and colours porcelain tiles allow you to create a truly custom look.
If you're unsure what type of tiles to choose for your home, visit our tile showroom today and let our friendly team of experts help you with your decision and answer any questions you have regarding the different types of tiles we have on offer and the best uses for each one.
Mosaic tiles
Mosaic tiles have really grown in popularity over the last few years, and are perfect for adding your own twist to a room. 
These tiles are highly durable and easy to clean, so they're always a popular choice for places like bathrooms and kitchens.
Mosaic tiles are available in a large variety of colours and styles, so they're ideal for things like splashbacks and borders to break up solid or neutral shades.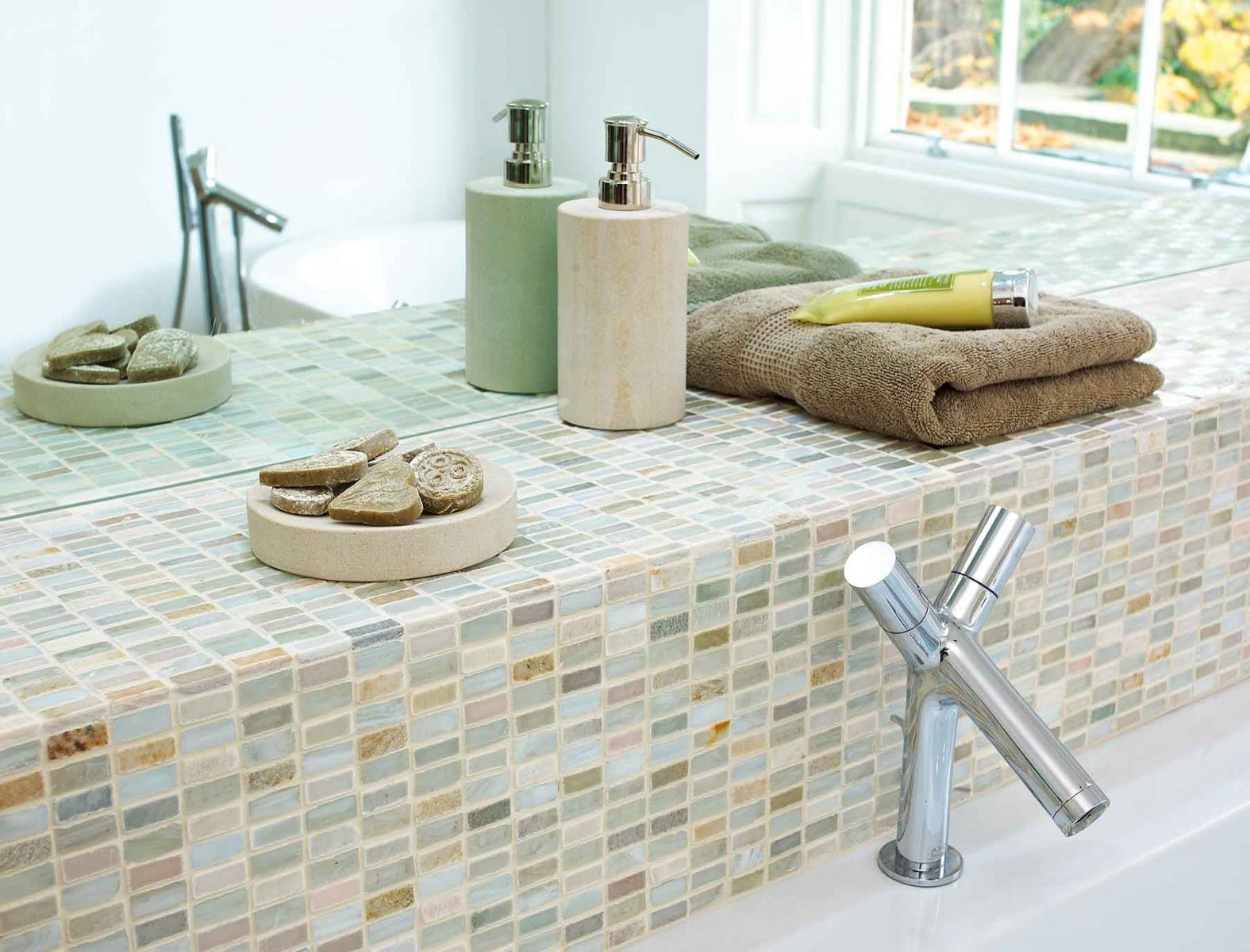 Ceramic tiles
Ceramic tiles are among the most popular and common types of tiles available in tile showrooms, and for good reason. 
They're extremely versatile, durable, affordable, and can be used in any room. Thanks to their popularity, ceramic tiles come in a wide variety of styles and colours, so it's easy to create the look you love.
Wood effect tiles
Warm wood is a look that's hugely popular right now, and it's easy to see why. Wood effect tiles add the warmth of real wood, but with the durability and easy-clean factor of real tile, so you get the best of both worlds.
Wood effect tiles are perfect for places like bathrooms and kitchens where you need something that's easy to maintain without looking sterile and cold. These tiles are also great for creating feature walls.

Stone tiles
As their name suggests, stone tiles are made from natural stone materials such as limestone, marble, granite, slate, travertine quartzite and sandstone.
Their natural materials are often associated with a rustic, warm and tranquil aesthetic that is reminiscent of the great outdoors. Some natural stone tiles require specialist grouts and adhesives which the experts at our showroom can advise on.
As well as authentic natural stone tiles we also have a range of stone effect tiles at our tile showroom, so you can get the look of stone whatever your budget.
At Euxton Tiles and Bathrooms we have a fantastic range of tiles available while our staff can offer expert advice on tile suitability. So, whatever type of tile you prefer you're sure to get fixed up with a visit to our showroom.