£3.5m restoration of a Grade II Listed Building originally opened in 1902.
40 years after closing, Ardex products in collaboration with Profix Tiling Ltd. helped to modernise the pool facilities, but the project retains its original character.
Residing alongside the River Thames in Reading is the site of the King's Meadow swimming pool. It originally opened in 1902 as the Ladies Swimming Baths and is the oldest outdoor public pool from the early Edwardian era in existence. However, over time it fell into a state of disrepair and, following its closure in 1974, has been left unused for over 40 years.
Renewed interest in the site came in 2004 when it was awarded Grade II listed building status, and a £3.5million project began in 2013 to restore it. The new site opened in 2017 as the Thames Lido, and incorporates a new swimming pool, spa, restaurant, bar and event space; and importantly, whilst the facilities have been completely modernised, the design itself has retained the appearance and theme of the old building. According to the Reading Civic Society, "Great care has been taken to restore original features or to replicate them where necessary. The additions to provide the spa treatment rooms at first floor level, and the restaurant areas, have been created in a modern style but in a way which complements the building."
The main attraction of the site its 25m outdoor heated swimming pool, which was built by BOS Leisure inside the existing pool shell to carry the original shape and features through to the new design; this method also prevented damage to the building's foundations, which could have been destroyed if the existing pool was removed.
Appointed for the tiling was Profix Ltd, who sought specification advice from ARDEX following a history of successful joint projects including the David Lloyd Leisure Clubs and Hinkley Leisure Centre swimming pools.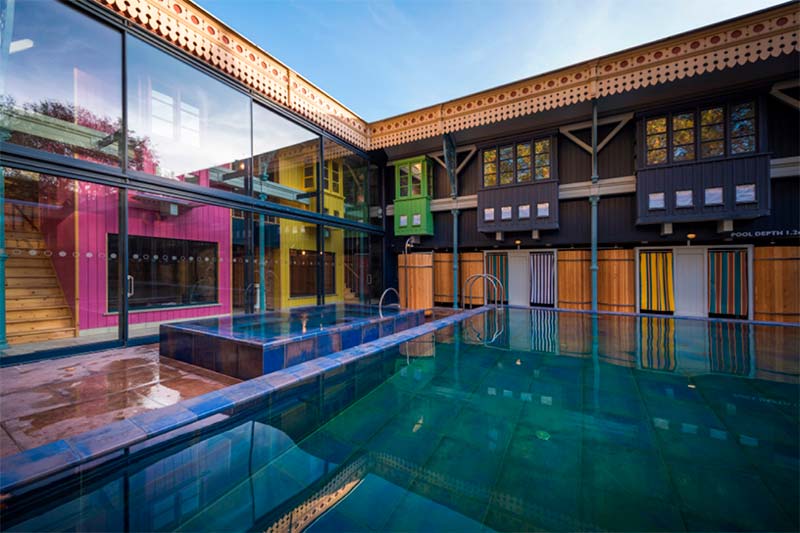 Speaking about the works, Greg Paclawski of Profix Ltd said: "This was a truly unique project, and it gives me immense pride not only to have worked on it, but to have also produced a beautiful end-result for the customer. It was great to be a part of the team that saved this building, especially after it had been closed for such a long time, and create something that will now be used for years to come.
"Quality was of the highest importance and there would have been no cutting back at the expense of the finish. That's why we chose to work with ARDEX, because you can't get any better than them; their products, technical advice and site support are unparalleled.
"I'd like to personally thank Andrew Grove at Euxton Tiles for his help on this project, as he is great to work with and is always on hand to help. Euxton's professionalism and reliability in supplying the fixing products were second-to-none."